Intro by COS
If this is your first time hearing of Ashoka University, you are in for a surprise. Go through this link to know the faculty there. Pick any random faculty and you shouldn't be surprised if they did they studied from the IVY League or other world's best universities. They hail from Universities like Harvard, Cornell, Oxford, Princeton, Yale, etc… they are not exceptional cases but are THE norm there. Cambridge, Max Planck, NYU, NUS, Columbia what not, the list just keeps going. It was set up to compete with world-class universities and it is well on its way to achieving the same. Hear about the experience at Ashoka from  Rashmi Gottumukkala, who has very recently graduated from Ashoka.
The University
Ashoka University is a Liberal Arts university in Sonipat, Haryana. With only its fifth undergraduate batch of students earning their degrees this summer, Ashoka is relatively young, and so many high-school students are yet to be introduced to the university, especially those seeking to pursue the sciences. I myself joined Ashoka in 2017 as an undergraduate and was part of Ashoka's first cohort of physics students. I earned my B.Sc. (Hons.) Physics in 2020 and my Postgraduate Diploma in Physics in 2021, as part of the Ashoka Scholars Programme. In this brief introduction to the university, I will introduce Ashoka's undergraduate programme from a students' perspective, with a focus on academics: Ashoka's undergraduate curriculum and what sets it apart from other universities in India. I will also briefly talk about life as a student at Ashoka. The hope is that this article serves as a guide to those who haven't heard of Ashoka before and perhaps gets them curious enough about the university to consider applying and attending Ashoka.
Academics at Ashoka
As a high school student who thought she was interested in nearly everything, what first drew me to Ashoka was the fact that I could enrol in the university as a slightly confused individual. I was more or less sure that I wanted to pursue Physics, but at the time I also wanted to explore Mathematics, Economics, History, and so much more. Ashoka was one of the few universities in the country that allowed one to do this, along with Azim Premji University, Flame University, and a few others.
Ashoka seemed to understand that perhaps it was a little far-fetched to expect a young student, fresh out of high school, to know exactly what they wanted to study and what they wanted to become in life.
Often, and unfortunately, high school hardly does justice to opening one's eyes to the many possibilities out there in the real world. College more closely resembles what is to come: you would, I think, get a much better idea of what it means to be a working Historian by sitting in a college classroom, as opposed to going for a high school History lesson. Ashoka, therefore, recognizes that young undergraduates must be given the opportunity to get a little taste of everything, enabling them later on to make an informed decision of what would be best for them to study and pursue.
The undergraduate programme at Ashoka is three years long, at the end of which you can earn either a Bachelor of Science (Honours) or Bachelor of Arts (Honours) degree, depending on your subject of specialization. You can do a Major in any of the following subjects: Biology, Chemistry, Computer Science, Economics, English, History, Mathematics, Philosophy, Physics, Political Science, Psychology, or Sociology/Anthropology. Majoring requires you to take a minimum of 12 courses in your subject, with some Majors having a few more course requirements (up to 16). You can also do Interdisciplinary Majors, taking courses from two different subjects of your interest. A list of Interdisciplinary Majors can be found on the Ashoka website (https://www.ashoka.edu.in/page/undergraduate-academics-1). Alongside a Major, you could also pursue a Minor, taking 6 courses in a specific subject. Apart from minoring in any of the Major subjects, you could minor in Creative Writing, Environmental Studies, Entrepreneurship, International Relations, Media Studies, Performing Arts or Visual Arts. Instead of a Minor, you could even pursue a Concentration, which requires you to take 4 instead of 6 courses in a subject. Really, the possibilities are nearly endless, and the freedom that Ashoka gives you to pursue your interests is liberating!
Each year is broken into two semesters, with each semester allowing you to take up to five courses, along with a Co-curricular course (these are extra-curriculars that range from music and dance to art and language – there are a whole host of interesting courses offered every semester!). Courses are normally worth 4 credits each, and co-curricular courses are worth 2 credits. During your education, you must complete at least 100 credits worth of courses: 9 Foundation Courses (36 credits), 12 Major Courses (48 credits), 2 Co-curricular Courses (4 credits), and other courses to reach (or surpass!) the 100-credit requirement, which could be from Minors, Concentrations, more Co-curriculars, or just random courses that you find yourself drawn to!
The Foundation Courses (FCs) are a critical part of Ashoka's undergraduate programme, with every student having to compulsorily take 9 FCs. Some FCs are Indian Civilisations, Social and Political Formations, Literature and the World, Quantitative Reasoning and Mathematical Thinking, Principles of Science, amongst several others. (A full list of the Foundation Courses offered can be found here: https://www.ashoka.edu.in/page/foundation-courses-3.) These courses are a boon to the confused individual looking to figure out what their interests are, and what to major or minor in. FCs are designed to give the freshman a sense of direction. In fact, in their first semester at Ashoka, students are mandated to take only FCs (but FCs of their choice, of course!). The other purpose that FCs serve is to make sure that Ashoka students do not only have exposure to their subject of specialisation but also develop methods of thinking and reasoning in areas beyond the boundaries of their Major. The hope, I believe, is that this pushes students to become well-rounded individuals, so that the Literature Major isn't entirely lost when reading an article on the economy, and the Physics Major isn't entirely cut-off from the world-beyond-Newton.
Of course, FCs can become slightly tiresome to the focused freshman who knows exactly what they want to do and then FCs become just another requirement waiting to be ticked off your list. Another slightly cumbersome issue is that FCs take up valuable time and space which could otherwise be utilised in developing skills and taking advanced courses in your Major subject. Since undergraduates are required to take 9 FCs, students pursuing majors in the Sciences for example (which have a higher number of major courses) often find FCs to be an unnecessary burden during later semesters. However, this is where the (optional) fourth year at Ashoka comes to the rescue (more on this further on in the article.)!
The second semester at Ashoka allows students to take Gateway Courses, which are introductory courses designed by the Departments to give students a chance to understand the general requirements of the Major.
These courses allow you to understand whether you are particularly suited for a specific subject, or even whether a subject you thought you might be greatly interested in turns out not to be your ideal cup of tea. I, for example, took Foundation Courses in History, Economics, and Mathematics in my first semester, found that I clearly loved mathematical reasoning, took the Mathematics and Physics Gateway Courses in the second semester, found that I was much better at physical-mathematical reasoning than at the pure mathematics stuff, decided to take up Physics, and ended up a very happy Physics Major. Of course, things are not always this straightforward. Oftentimes you might find that no subject immediately speaks to you, or perhaps too many speak to you at the same time. The question of choosing a Major then becomes much more difficult. But with Ashoka's options of doing Minors and Concentrations, or just taking courses because they interest you, you do not lose out on too much – while it might seem like a compromise to choose one Major over another, you can still keep in touch with your interests throughout your undergraduate education.
The second and third years at Ashoka (Semesters 3 to 6) are where you dive into your Major subject, and complete Minors/Concentrations, should you choose to do so. Majors and Minors usually have a particular sequence in which courses need to be taken (as they build in complexity), so often you might find that only one or two courses in a semester can be taken from disciplines outside your specialization (this is again particularly true for Science Majors who have more core course requirements). But of course, this is how it is because when you graduate, you are expected to have a solid command over your Major subject, which only comes with lots of time spent studying it.
Integral to the academic culture at Ashoka are the many Colloquia (academic conferences or seminars) that take place across campus during lunch hours, on almost every working day. It is a common sight to see students rushing out of their afternoon lecture, grabbing their steel thalis at the mess, and running to make it in time for an afternoon colloquium. I remember during my first year to have made it a point to fill my lunch hours every day with a colloquium from a different department. Colloquia are a great way to learn about different disciplines: often, because colloquia are delivered by experienced thinkers and researchers, they give students an insight into the current happenings in academia and in the world.
One of the really wonderful things that stand out to me about Ashoka is its Professors and Teaching Fellows (TFs), who, in my experience, have been dedicated, concerned, and always encouraging. You will find that most Professors have their doors wide open, are always there to help their students, and are very receptive to feedback.
It is not uncommon to find Professors or TFs with their students at the campus Dhaba, discussing, say, Philosophy over chai and pakoras.
I have found my Professors and TFs to be my greatest source of inspiration and motivation. They have pushed me to take up challenging projects, motivated me when things got difficult, and have always shown concern in my progress and development. This is also particularly true of courses such as Physics, where classes are very small, and students get individualized attention. Often in many areas, once you reach your final year, class sizes reduce (due to specialized courses) and you can get to know your Professors very well. I feel that Ashoka is one of the few places in India where students and teachers can share a common space, and freely exchange thoughts and ideas.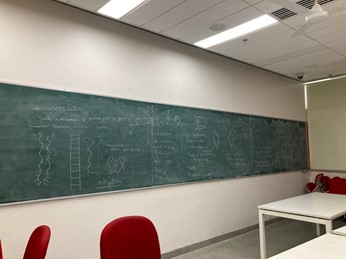 On Science at Ashoka, it is true that several students might be hesitant to study the Sciences at a liberal arts college. It is perhaps difficult to reconcile the fact that along with, say, a Major in Physics, one would have to study myriad other things which hardly have any "use" to the study of Physics. On the one hand, I could argue that these myriad other things help balance out the study of Physics – oftentimes an arts course has been a welcome relief after a day of solving differential equations. And of course, these courses in themselves can be very interesting, which you might only come to understand once you take them. On the other hand, perhaps these extra course requirements are a bit too much for the Science Major – this too, I would agree with. However, Science at Ashoka has one big selling point that sets it apart from other colleges: its laboratories. Ashoka has invested lots of capital into its Science programmes. It has therefore been able to build extraordinary undergraduate laboratories for Physics and Biology, with sophisticated experiments. I know of several friends in Physics and Biology who started working on research, and in some cases publications, early on in their undergraduate education. Several professors have their research laboratories on campus and encourage student research projects. And currently, with the Trivedi School of Biosciences being set up (more on this here: https://www.ashoka.edu.in/pages/biology-tsbs-374), Science at Ashoka is set to boom.
The (Optional) Fourth Year – The Ashoka Scholars Programme
Ashoka offers its undergraduates a chance to stay on for an extra year after earning their Bachelor's degrees for the Ashoka Scholars Programme (ASP), a year-long diploma course at the end of which students are awarded a Postgraduate Diploma in Advanced Studies and Research (DipASR). The ASP programme can be used by students to complete an Advanced Major (including a Capstone Thesis in their undergraduate Major subject), a second Major, a Minor or Concentration, or just a combination of various courses on offer. For a comprehensive overview of the ASP programme and all its possibilities, you can refer to the Ashoka webpage, here: https://www.ashoka.edu.in/page/dip-asr-76.
I feel, especially for students looking to pursue research careers, the ASP programme is a great opportunity to take advanced graduate-level courses and directly engage in research. Especially because the undergraduate programme is slightly limited in the exposure that it gives you to your Major subject (because of the high number of FC requirements), the ASP is a good way to make up for lost time and courses. Additionally, the ASP allows one to engage in a semester-long Capstone Project or a year-long Capstone Thesis, which gives students the chance to work closely with an advisor(s) on a current research topic. This allows a student to figure out whether or not a research career would be suitable for them.
The ASP is also very advantageous for students hoping to pursue higher education abroad, especially in the United States. The ASP is considered to be the equivalent of a 4th undergraduate year, which puts it on the same footing as American undergraduate programmes. This effectively means that ASP students can apply for Master's or direct PhD programmes in the US or in Canada.
Student Life at Ashoka
A large part of this article has discussed academics at Ashoka. But Ashoka is far from filled with geeks and bookworms alone! Ashokans have a vibrant student life, with several student-led Clubs and Societies, excellent Sporting facilities, Campus Politics, and more. A list of the various Clubs and Societies, Sports, etc., can be found on the Ashoka webpage, here: https://www.ashoka.edu.in/page/Student-life-29#/section-266 – you will find that there is something to pique almost anyone's interest.
Ashoka also encourages student-led initiatives, and more Clubs and Societies crop up every year! For example, being a part of the founding physics batch at Ashoka, my batchmates and I set up the Physics Society and the Astro Club. We received funding to buy Ashoka's first telescope, buy accessories to conduct cool astronomy projects, and also organize events and talks. Ashoka, therefore, is greatly receptive to new ideas and initiatives.

Ashoka's campus is in Sonipat, Haryana. While being an hour away from Delhi means that city-life is not at your doorstep, regular bi-hourly shuttles run from campus to Delhi, ensuring that students can travel hassle-free and safely to the city. The campus itself is fully self-sufficient, and students live extremely comfortably. In the summer months, the campus is centrally air-conditioned, and in the winter-months the campus is centrally heated. Students can avail laundry services free of cost, with only an initial payment to buy the laundry bag. Women and men have separate hostels, with cross-access being allowed throughout the day, from 08:00 AM to 12:30 AM. All hostels have common washrooms and shower stalls, a common pantry, and a common room and recreational room on the ground floor.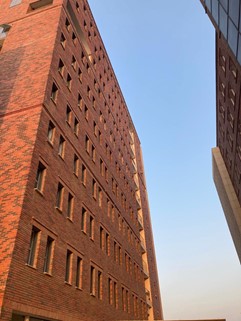 Food!
Ashoka has several eateries in and around campus, from a South Indian joint, Dosai, to pukka North Indian Punjabi Food at Shudh Desi Dhaba. You also get the usual burgers, pizzas, sandwiches, samosas, Maggi, juices, tea/coffee, etc. at eateries around campus. One downside is that food at Ashoka is rather pricey – much higher than food at most college campuses. The mess, while not exactly cheap, is more reasonable than the food at the eateries. Breakfast, lunch, snack, and dinner are served at the mess, with the weekly menu being emailed to campus at the beginning of every week. There is usually a good spread of items, especially at breakfast, and lunches and dinners are sometimes themed – Chinese, Italian, North Indian, South Indian – you get the idea.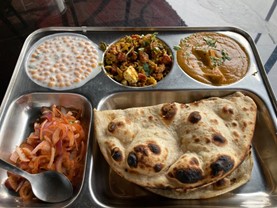 Financial Aid at Ashoka
Ashoka's tuition for the undergraduate programme is very steep. Including tuition and residence costs, Ashoka's yearly fees come close to 10 lakh INR. Ashoka does, however, strive to support every student it feels deserves a place at the university. The admissions process is need-blind, meaning that the financial standing of your family is not considered during the admissions process, and you are judged based on your merit alone. Once you receive an admission offer, if your family is unable to financially support you at Ashoka, the Financial Aid office will provide you with the required assistance. To date, 47% of Ashoka's undergraduate students have received either partial or full scholarships to study at Ashoka. For more information on Ashoka's financial aid policy, you could look here: https://www.ashoka.edu.in/financialaid.
Interning and Working at Ashoka
Ashoka offers several opportunities to its students to work on campus. Assistantship jobs at the Office of Academic Affairs, Office of Student Life, Admin, etc. are possible. You could choose in your third year to become a Residence Assistant (RA), whose responsibilities include assisting students on their assigned floor in their hostel, providing guidance to students, resolving conflicts regarding living situations, etc. They also get to plan fun floor parties and events! A monthly stipend and an individual room are given to all RAs.
On the academic side of things, Ashoka gives undergraduates the opportunity to work as Teaching Assistants (TAs) or Research Assistant (RAs). TAs usually assist faculty members in grading papers and assignments, and handling logistics; they might in some circumstances be required to take tutorial sessions for the class. RAs assist professors in their research, which includes reading research papers, setting up labs, conducting experiments, etc. TAs and RAs also receive a monthly stipend.
After Ashoka
Life after Ashoka can be very exciting, and students go on to do several different things. Many go on for higher education: either diplomas, Masters', or Ph.Ds. Several students directly get into jobs through campus placements. Ashoka's Career Development Office (CDO) hosts job fairs, résumé building workshops, and mentors students looking to get into the workforce. For a list of placements in jobs and universities, refer here: https://www.ashoka.edu.in/stories/welcome-324. For information about the CDO, refer here: https://recruit.ashoka.edu.in/#about-section.
To End This Piece…
There are many, many things one could study at Ashoka, with not-too-many constraints. This means that every individual's educational trajectory is unique: two Economics majors could sit together in the same Macroeconomics class at 08:30 AM, and then one could go on to a Linear Algebra lecture at 10:10 AM while the other could go for a Bharatanatyam class! Studying at Ashoka means that your gaze is not always directed towards the finish line – you are given the freedom to live in the moment, try out new things, stumble, fall, perhaps try again, and ultimately discover your interests and passions.
All images provided in this article were taken by and belong to the author.
For general information, please refer to Ashoka University's webpage: https://ashoka.edu.in.
For information about undergraduate admission, refer here: https://www.ashoka.edu.in/page/ug-admissions-40#/section-299.
To contact the author, you could email her at [email protected].