What can you do better than me if you are currently pursuing Engineering? Things that I wished I had done better and known earlier.

What can you do better than me if you are currently pursuing Engineering? Things that I wished I had done better and known earlier. Here I would like to elaborate on the things that you can do if you are currently studying Engineering and want to move to Physics. I am NOT saying that this is the only way but it is the best way that I know. The earlier you do this the better. It would be super awesome if you start before the end of your first year or second year. But don't worry if you are in your third year or final year. I'm positive that you can do this if you invest a little time. But know that you might have to take a 1-year break if you plan to go abroad.
a) Familiarize yourself with the physics curriculum from MIT or IISERs or IITs or any University you like and try following it.
It might be difficult to do all the courses but at least do the core courses like Classical Mechanics, Quantum Mechanics, Electrodynamics, Waves and Oscillations and Statistical Physics by the time you are in your third year (if you start doing this in your 1st or 2nd year. Otherwise taking a break year might help). These courses are a MUST.(Having a decent foundation in these courses is an absolute necessity to do courses like General Relativity, Particle Physics, Atomic and Optical Physics, etc.) You can probably complete these courses in about 1 to 2.5 years depending on the time invested. The reason I mentioned MIT is that, on the OCW website, you can find all the assignments, exam papers, solutions (if available), textbooks used along with video lectures for almost all the courses mentioned above.
Besides we have our very own NPTEL courses which are taught mostly by IITs and IISC professors and has a really huge library that covers all these CORE courses and almost all graduate advanced courses. These are Undergraduate/ Graduate level courses. NPTEL in my experience offers one of these above-mentioned courses almost every semester.  I would extremely strongly recommend you to in fact register and take NPTEL exams every semester if possible in the above topics if your University does not allow you to take these courses as electives. (I'll mention why soon).
My opinion is that MIT lectures are superior to NPTEL lectures in Physics in terms of the quality of teaching and the content. MIT also has pretty dope lecture notes as well. I really like fact their notes are very elaborate in a lot of cases. But NPTEL has a way bigger course library in physics and most importantly you earn credit eligible certificates for them. So you can do both of them simultaneously. For Example, if NPTEL is offering Classical Mechanics in a particular semester, do take it but also simultaneously, you can also learn Electromagnetism/Waves and Oscillations from MIT. Again this is just an example. You can combine them however you want.
This is something I wish I had known earlier!
b) Go do research under your college physics professors on some small projects that you can.
(You "MAY" skip this step if you are already secured internships at places mentioned in C. However following step B would NOT hurt you in any possible way)

I did that only in the third year but you will have an amazing start if you do that right from your first. This is something that most students tend to ignore as they always try to e-mail IIT and IISER professors for a project instead. They are always bombarded with so many emails and it is harder to get your first research project under them, especially if you are in your first year.
Instead what you can do is look at the profile and the research areas of the Physics professors in your college and see whose research areas interest you the most. Take the help of your Engineering Physics Professor if needed. They will be way more open to taking you for a short term project rather than an IIT professor.
I also understand that in most colleges,  your only choice is Condensed Matter Physics, Polymer physics, Semiconductor Physics, Optoelectronics or Laser Physics. Thats okay! Still go ahead with it! It is better to always explore various research directions rather than being adamant with pre-conceived notions. Who knows! You might like it more than Astro or Particle Physics.
This will give you a good profile with which you can start emailing professors in your second year in other areas that you like.
DO NOT MAINTAIN BAD RELATIONSHIP WITH ANY OF THESE PROFESSORS! THEY WOULD PROBABLY BE THE MOST APPROACHABLE FOR RECOMMENDATION LETTERS AS THEY ARE IN YOUR SAME UNIVERSITY.
c) Now apply to places like IIT, IISER, TIFR, etc.
Your previous research experience will help you. Ask your professor if they know some professors from top places like IITs, IISER, TIFR, ICTS, IMSC, HRI, RRI etc. If not try contacting them asking for research positions during the Summer or even remote projects. Don't hesitate to apply to all possible official Summer/Winter programs offered by these places. Try developing contacts with other professors in those institutes. Most importantly try maintaining a good relationship with them even after finishing your project. If you finish your summer/winter project, try doing some projects with them remotely if you can. Sometimes try going to some institutes directly and meeting professors in their office without prior permission. Many of them don't mind that. In fact, for me, almost all of the professors turned out to really really helpful and friendly. The worst that could happen is the might tell you to get a prior appointment before the meeting.
DO NOT MAINTAIN BAD RELATIONSHIP WITH ANY OF THESE PROFESSORS.
d) Apply abroad! (Go as high as possible!! Go Beyond Plus Ultra!!!!!!!!!!)
With help from your professors from IIT, IISER, IMSC, etc, try securing a position abroad.  Just tell them that you want to go abroad for a few months during Summer or Winter and they might introduce you to their collaborators out there. See if you can get some funding (Might not always be possible). A good way to know your professor's collaborators abroad is to look at their papers. Some good sources are InspireHep, arXiv, research gate, etc.
In case it did not work, try emailing some professors in a research area that you want to explore. Send a hell lot of "Sensible" e-mails to professors in various Universities. Most of the time you will not get a response, sometimes you will get a negative response, some will direct you to other professors and very few might accept you. It is a lot of work but definitely Worth it!
DO NOT MAINTAIN BAD RELATIONSHIP WITH ANY OF THESE PROFESSORS! THEY ARE YOUR GATEWAY TO TOP UNIVERSITIES. YOU NEED THEIR RECOMMENDATION LETTERS!!!!
(It is not necessary to do this step as not all of them can get an internship abroad. However, keep in mind that this will drastically strengthen your profile. However, if you are already working with top profs from places like ICTS, TIFR, IMSC, etc, then you should be fine. However, going abroad and doing internships under good professors will still definitely strengthen your profile for sure.)
e) Try doing your Bachelor's thesis in Physics
Try contacting the Prof abroad or someone from a top institute in India for doing a Bachelors's thesis in Physics. If your University does not allow you to work on Physics, at least try doing in fields like Astronomical Instrumentation, Signal Processing techniques for Physics, Optics and Laser Physics, Semi-conductor Physics, etc where you can satisfy your requirement of doing an Engineering Project and also work on a field related to Physics.
(Would be really awesome if you can go outside your University for this as well)
f) Apply Abroad for Graduate Studies
While you start applying abroad, contact the prospective supervisors about 4 months beforehand and tell them about your research interest. Send them your CV and ask them if they are still accepting students. Your research supervisor from Step d) would probably be most helpful in this case.
Other miscellaneous tips that might REALLY help!
Start your own Physics club in case your college doesn't have one. 
This is one of the ideas that hit me when I was in my final year but I was probably very late. There are a hell of lot of people who are interested in pursuing Physics in every college. I remember talking to a few people right in the 1st week of my college in my hostel mess while I was having Pulav who were interested in studying Physics and were interested in Cosmology and Astrophysics (That what most of them are interested in when they just finish 12 and there is nothing wrong with that!!)  and wanted to pursue it as a Career. We never became friends and I spoke only 4-5 times throughout my college life. However, none of them pursued a physics career. There is nothing wrong with not pursuing a physics career. Pursuing Physics doesn't make you the most superior entity on the planet. Doing an IT Job doesn't make you bad either.
 But I do feel that if I could gather all the Physics enthusiasts in an Engineering college into a single place through clubs, at least a few of them might realize their true interests and might have chosen Physics for their graduate studies. Having more like-minded people like you will motivate you as well as others. Besides you, people can reduce the amount of time you spend researching graduate applications, help each other study Physics, do research together under a professor together, etc. This might especially be important if you are an Engineering student as almost everyone around is either planning for an MS in or might plan to get into giants like Microsoft and Amazon or other high paying companies. (Again, these are amazing jobs and there is nothing wrong with doing them)
Find a mentor 
This is something that is not absolutely necessary but will help you a lot. Finding a mentor from top institutes in India or outside in India to guide you through what to study and hot to go about your studies and research will definitely. Normally, one might think it is almost impossible to find mentors and it is definitely true. But I was really surprised to find the number of Professors who were actually ready to serve as mentors to students who wanted to move to Physics from a Different field through regular mentoring once a week through Skype (I am not telling who they are!)
Request your University for a Minor in Physics
This is something that you people should beg your University for. It will definitely help you a lot and save a lot of time rather than spending your time on subjects you don't want to study.
How does the graduate program in the US vary from Europe?
Many people in the group seem to have difficulty in Understanding the difference so ill explain.
In the US, you CAN directly enter a Ph.D. program after a Bachelor's degree (in most cases a 4 year Bachelor is required). These Ph.D programs are fully funded and you will get a teaching assistantship or research assistantship. If they don't offer then it probably means that it is a bad Ph.D program. That does NOT mean that people with a Masters in Physics cannot enter. So you will find that both people who have a Bachelor's and Master's will enter the same Ph.D. program. A Ph.D program will be for about 5-7 years in the US depending on how long you take. In the first few years (about 2 to 2.5) you will be doing your courses but you also have the chance to explore research directions right from the first semester. Some of them might exactly know what they want to work on and others might still be exploring various research directions. Further, if you have only a Bachelor's degree you can earn your Masters after you earn a certain number of credits which takes about 2 years. Masters students might have the option to do skip some of the courses if they have already it during their Masters.
A lot of time, I heard that the graduate committee matches the research interest that you mentioned in your application with that of the Professor's and will see if they can accommodate you.
In Europe, a Ph.D mostly takes 3 to 4 years. In that case, you need a Master's degree to do a Ph.D. In a lot of cases, you need not take graduate-level courses during your Ph.D.
In Canada, some programs work like with the US but I think most of them work like Europe. I suggest you do your research before applying.
What matters the Most for US and European admissions? GRE, Grades, or Research?
The United States and Canada
In my strong opinion, the most important factors for getting admitted into a Ph.D. program in the US are your Recommendation Letters and your Research Experience. So if you are being recommended by a top and well-known researcher in a given field you have a higher chance of being selected. If that person writes a negative LOR, then it will most likely decrease your chances. If it is a good Recommendation letter, your chances of getting into top Ph.D. programs are high and if he/she writes stellar LORs for you, then you might almost get into Universities like the University of Chicago, UIUC MIT, Princeton, Yale, etc. This is because the graduate committee are much more likely to choose the student who is recommended by a well-known person in the field.
In India, I think if you do a project from places like TIFR, ICTS, IMSC, and HRI,  your chances of getting into good Universities abroad for a Ph.D. will be higher, especially because some of the Professors out there have direct collaborations with the biggest places like MIT, Harvard, ETHZ, MPI etc.
In addition, having a research project or a Thesis from really good Universities abroad might further increase your chances tremendously of getting into a fantastic University.
 A good thumb rule to identify that a Professor is a top researcher or not is to look at their papers and see who they collaborate with. If they have coauthors from Places like Stanford, MIT, Yale, Berkley, etc, then chances are that they are well known to some of the Members of the graduate admission committee and. In fact, if you do research under their supervision and if you are good enough, they might even take you as their graduate student and the application will merely be a formality.
NOTE: I DON'T mean that professors who don't have such contacts are bad researchers. I also DON'T mean that you shouldn't work with Professors who don't have such BIG contacts. In fact, I have heard stories where a Prof might be really good and have excellent ideas, but for some reason (like politics, etc), they don't have big collaboration. Further, I also DON'T mean that working with Professors who don't have collaborations in places like CalTech will not land you a top Ph.D. In fact, you could very well land into top PhD programs without the recommendation of a Prof from the "Big Universities". It is just that the chances of a big professor being in a top University is very high. I just feel that working with well-known Profs MIGHT increase the chances of you landing into top Universities like UIUC, Michigan Ann Harbor, Maryland, UCSB, etc, if not places like MIT and Stanford for Ph.Ds).
Also, I would recommend getting at least 1.5 years of research experience before applying to the US and Canada if you intend to at least get into the top 100 of this list
here
. Some of the people might have even 4-5 years of research experience so it is very very competitive in the US. Similarly, getting into Canadian Masters can be almost hard as the US. But one good rule is to contact the professors in Canada before even applying. As far as I know, if you get a green signal from the Prof, you will most probably be selected. So see if you can develop contacts with Canadian Professors as early as possible (Even a year before would be awesome).
My only request is that you people explore as many research options as possible BUT  try gaining at least 1 or 2 months of research experience in the area that you want might want to specialize in during your Ph.D.
GREs and TOEFL are not AS important as many others emphasize in my opinion. You don't need a 330+ score in General GRE. If your GREs are too low (something below 305) then it MIGHT create a concern for the graduate admission committee. But If you have something around 310, I think you are good to go. Same for TOEFL. Try scoring at least 100 but if you have something around 95+ you should be fine.  Same for Physics GRE. Getting a 990 on PGRE alone won't grant you admission if your Research experience and grades are just average. On the other hand, if you have a very low PGRE with fantastic research experience and superb recommendations, you have a high chance of getting into top places.
So In general, Unless your TOEFL is low ( Below 90-95), Gre General is low (Below 305 ) and PGRE is low (Below 700 maybe? But shouldn't matter a lot), you should be fine provided the research is really good.
However, this shouldn't stop you from scoring 320+ in GRE, 110+ in TOEFL, and 900+ in PGRE if you can. They might not be as important as Research experience or Recommendation letters but still play an important role in your graduate admissions. In fact for engineering students who want to move to Physics, PGRE might a good way to show that you are good at Physics. 
Your grades in Physics-related subjects might play an important role for the graduate admissions committee but not as much as research experience but probably more than your GRE/TOEFL I guess How much weightage each graduate committee gives to your Research, Grades, PGRE is still not known to us and they probably don't give this info out. But in general, whatever info I gave should be more or less helpful.
Comparison of Profiles
I can provide you a sample comparison of profiles to show what I mean.
Person
A
B
GRE Score
325
312
TOFEL Score
115
102
Physics GRE Score
910
720
Research
About 1-year research in a
relatively unknown place
with a
relatively unknown supervisor
About 3-year research in a
relatively known
supervisors
(& international research)
Grades
8.5/10
7.3/10  
(decent grades in Physics)
In most cases, person B would win when it comes to being admitted to a good US graduate program. Similar things in my opinion that hold for Canada as well.
In a lot of cases, the reason you get rejected from the US/Canada Universities is not that you don't satisfy the minimum criteria, but rather that the competition was very high.
Europe
Masters
In most Universities across Germany, the relevance of your Bachelor's degree is very important. A lot of times they might directly reject you because you don't have a Bachelor's degree in Physics. In addition, they might expect you to have specific courses in your Transcript and a minimum of 90 or 120 ECTS in Physics courses (1.5 to 2 Semesters worth Physics courses). Particularly, they look for courses like Classical Mechanics (Till Lagrangian and Hamiltonian Formulation), Electrodynamics, Quantum Mechanics (At least be familiar with Bra and Ket notation), Statistical Physics, Nuclear, and Particle Physics, Waves and Oscillation, Atomic, Molecular and Optical Physics and Solid State Physics and about 3 or 4 Mathematics courses.
This is where most Engineering students, especially from Universities that don't offer Physics courses as electives suffer. So that is where NPTEL plays an extremely important role as I mentioned earlier. NPTEL offers credit eligible in many courses and I would recommend everyone to take up 1 of those every Semester. These will definitely help you get admission in several Universities in Germany and several places across Europe (and will also strengthen your profile for US applications for sure).
The nice thing about NPTEL is that they offer mark sheets as shown below:
NPTEL might be an excellent way to show that you have done the necessary courses in Physics. In addition to this, NPTEL offers certificates with the number of credits for Each course. Doing so was very helpful for me and will definitely be helpful for you.
If you don't satisfy the minimum requirements of having a BSc Physics degree or at least the necessary courses mentioned, there is a high chance that you might get rejected.
In fact several fantastic German universities like Mainz or Frankfurt (and many more) have something called "Open Admission". So it means that as long as you satisfy the criteria in full (having the necessary courses in your Transcript/Marksheet or the required credits in Physics/Mathematics), you will get selected as long as you have a passing/minimum grade. This is where a BSc Physics degree will really really help you.
Similarly, your grades might also be essential in several other institutes in Germany. A lot of importance is in fact given to your Grade and your Bachelor's thesis. So it is better to do your Bachelor's thesis in Physics.
Research experience is not important as in the US but still, it is better to have as all the other students who apply will have good research experience. So it is better to have at least 6 months of research experience.
Ph.D.
I am not an expert in this, but I'll tell you whatever little I know. Some Universities have a general application portal where you have to just apply and you will get the results after the deadline. Pretty much like the US. In other places, you have to email or talk to the professor you are interested in working with. They might call you for an interview to know more about you. Again, it works similar to the US. If you apply to a place where your advisor has collaborations with or if your advisor is well known, you have a higher chance of getting into the University. If your Master's thesis was similar to the research done by the research group, you have a good chance of getting in.
(What I am not sure about is that does your does the topic you intend to work on during your Ph.D. HAVE to be closely related to your Master's thesis. If anyone knows about this please let me know and I will update it over here)
Choosing Between the US and Europe
This can be a bit tricky. The US generally has deadlines around December to January for their Ph.D. program. Most people who apply to the US generally apply for a Ph.D program and not a Master's program. I would also NOT recommend applying directly for a Master's program as you will have to pay a hell lot of fees. On the other hand, Ph.D programs are fully funded. Once you get an offer from a US University you will have to give your response within April 15th (for most programs).
In Europe, for MASTERS, some Universities have deadlines somewhere in the Month of January, some in the month of March. But most German Universities have deadlines around 15th July for Winter Semester and 15th January for Summer Semester. Further, it is way easier to get into top programs in Europe compared to the US.
For Ph.D in Europe, some accept applications all throughout the year while some accept applications within a particular deadline. Other times, you might have to directly contact your Ph.D advisor.
I personally prefer the US curriculum for Physics because their graduate program starts with Classical Mechanics, Quantum Mechanics, Statistical Mechanics and Electrodynamics at an advanced level. You will be doing these courses for a year with about 3 courses/Semester. I personally feel that it is necessary for one to have a good command over these courses. In fact, even people with a Master's degree from places like IIT will still do these courses once again in the US even though they would have done these in their towards their later stages of UG, during their Masters. (Some, however, do credit transfer for a few of these courses in masters, but many still do it during their Ph.D.). In general, a Ph.D in the US can take about 5 to 7 years.
Now, this does not mean that the European system is bad! The European system is in fact good! (But one problem is that in my opinion, one needs to have an extremely good foundation in the CORE COURSES of Physics. That is something which is kind you don't do in Europe at the graduate level while you do it in the US, even if you did them in undergrad thus gaining a very strong foundation. This is also one of the reasons why I prefer the American System.)  In Europe, you are expected to start with Advanced Quantum Mechanics (you are expected to at least know perturbation theory) and Advanced Particle Physics (with introductory particle physics as a prerequisite) and would not recommend going there unless and until you have at least some decent grasp on UG level European syllabus in Physics. Europeans generally do Lagrangian and Hamiltonian, Particle Physics, Jackson level electrodynamics, and sometimes even QFT and GR as electives at an Undergraduate level. It is way more rigorous than the Indian syllabus. So be careful !! It's not impossible but it is hard! Very hard!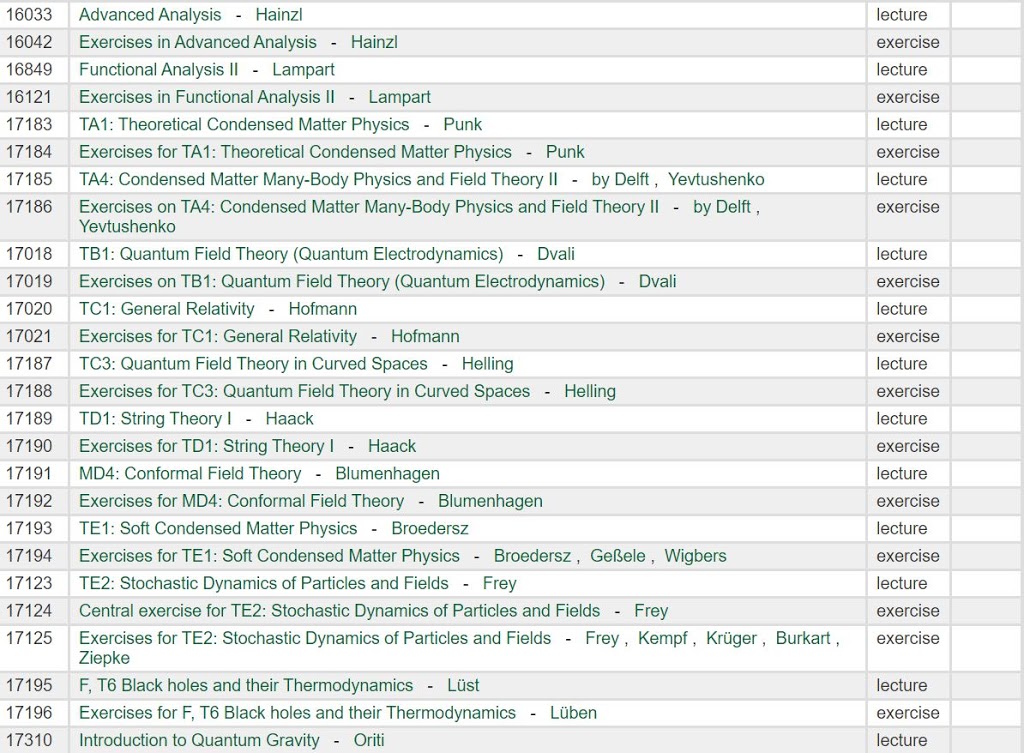 (I have provided a sample list of courses offered at LMU Theoretical Physics courses to give an example of how difficult the courses in general are. Of course, this course particularly is very hard but in general, the course in Germany is pretty advanced as well. Note: Advanced DOES NOT MEAN HARD. It simply means it is ADVANCED!)
Even though the Masters's program in Europe says it is for 2 years, people from traditional Physics backgrounds from Europe also take about 2.5 to 3 years to complete the course. If you are from India and still want to pursue a Master's in places like Italy or Germany in Physics, be mentally prepared to take about 2.5 to 3.5 years to finish the Master's course, especially in places like Europe. (You can still complete it in 2 years if you put in the work but it might be really really hard, especially in theoretical Physics).
Ph.D in Europe may or may not require you to do course work. If they have course work, it will probably be for the first year only or they might expect you to take 1 advanced course every semester as and when you do your research. You can probably finish your Ph.D in Europe in about 3-4 years.
My opinion on this…
The Physics Masters syllabus in Europe (especially Italy, Netherlands, and Germany) is pretty hard! If you want to take things a little slow, you are better off doing MSc in a good institute and India, gain a lot of research experience and strengthen your foundations, do internships or research in top places like ICTS, TIFR, or IMSC or good universities abroad. This will land you in a fantastic Universities abroad for your Ph.D (If you want to go abroad that is).
If you have some good foundations in some advanced level courses and you are confident that you will be able to cope with the European syllabus, then go for it! You will have the contacts of very big Profs and get top Ph.Ds. But be prepared to do your Masters for about 2.5 to 3 years.
I also feel that the competition for getting a Ph.D. in the US is harder than in Europe if you have a Bachelor's/Master's from India. For good Universities in the US, (Anything in the Top 50  
https://www.usnews.com/best-graduate-schools/top-science-schools/physics-rankings
), you will find more of IITans, IISER, BITS, CMI, DU, etc and only IITs, IISER (from what I have seen. I could be wrong) as you move even higher to the top 15 or 20. That doesn't mean that others cannot get in, but just that IITans/IISER/IISC and BITs people tend to have a higher chance of working in Top Universities during their internships because they have a head start of getting a good internship at Bachelors. This is not necessarily the case for Europe.
Some Random Tips
Stony Brook University
Earlier in this post, I had mentioned that it is very hard to get into a Ph.D program in Physics in the US. It is even harder to do so in Stony Brook because it is one of the best places for Physics. However, Stony Brook has an option which says asks you whether you want to be accepted for a Master's in case you get rejected for a Ph.D. program. If you choose that option, there is a very high chance that you will get selected for the Master's program at Stony Brook for Physics. I haven't personally applied there but I know about 5 people who did that and had decent profiles and all of them were accepted for the Master's program. So if you have enough money, you can go for it.
Someone online told someone online that once you go for this Master's program, you can develop good contacts with certain professors and can directly be accepted for the Ph.D program at Stony Brook after two years. However, from another opinion, I found that it is kind of hard to continue to a Ph.D program after Masters and only a few people get that opportunity. But I guess, if you do well enough in Masters, you can get a great Ph.D. somewhere else including Europe. But that's up to you to try out.
Education in Italy
 Italian Physics program is among the hardest in Europe and even harder than Germany, especially in Universities like Padua, Pisa, and Sapienza. This was the opinion of someone who got accepted to HRI, IMSc, and TIFR in the same year (probably the only one to do so in his year) but is currently pursuing his studies in Italy. So if you go there, remember that it is going to be very hard. But once you come out, you will be really good at Physics. Italian Universities are as reputed as the top German Universities and the living is cheaper. Padua gives regional scholarships to almost everyone. If you want to go there my recommendation would be to look at their UG courses and see if you have a good grasp of them and decide if you would be able to handle their Master's course. The exams and assignments are damn hard over there as well.
QI and Theoretical Physics 
This is something I have unanimously heard from almost every student and professor. Theoretical Physics is hard! It was already pretty hard to get a position a few years back and will be much harder in the upcoming years. In fact, one of the professors told me this (I modified it):  "if you can be happy doing something other than fundamental theory, you should do that. In particular, you will never be unemployed if you work in low-temperature experiments, whereas there is a glut of people who do fundamental theory.  It is almost impossible to get into the field of fundamental theory unless you are from top institutions"
On the other hand, Quantum Information is a field that is becoming more and more popular nowadays and there seems to be a lot of scope for this field and also so much money and you have higher chances of being employed.
(All these are info that I have obtained from other people)
France
Compared to many other places, in my opinion, France is probably much easier to get admission into. And that too in the top institutes in the country like Sorbonne, Universite de Paris and Paris Saclay (Especially this). All you need are a few online courses, a good grasp of the basic subjects, and preferably some research experience. Just remember that the deadlines will be somewhere in March. But be careful that the living expense it a little high in France but the tuition fee is less. So it is better than going to places like the Netherlands.
Sweden
This is from my experience of talking to people in this group as well as some of my friends who applied last year. For Sweden, you can apply to 4 Universities in 1 go and it is kind of easy to get admission there provided you did some online courses, have decent research experience. But remember, here there is a tuition fee and it is very hard to get scholarships. The awesome thing about Sweden is that it is the country in Europe whose curriculum is closest to the US Syllabus (and thus best for Indians and probably many peeps like you guys who are moving from Engineering) and yet have wide diverse course options like Germany.
UK
This is from my experience of talking to people in this group as well as some of my friends who applied last year. It is also easy to get into the UK (Cambridge, Imperial, Oxford, Edinburg, and a few other top places) with a decent profile. Again, there is the tuition fee and living expense that you have to take care of unlike Germany which has 0 tuition fee.
Saving money during the application
Request Universities to waive the application fee. Some of them will not, some of them will. Also, ask them if you can send unofficial scores for TOEFL and GRE until you are officially offered an admission. This will save a hell of lot of money. I saved about 50% during my applications